St. Joseph Marello Parish
St. Joseph Marello Parish is a Faith Community under the guidance of the Holy Spirit that strives to make the Lord Jesus better known by witness, word, sacrament, worship, and community emphasizing servant leadership.
237 William Street, Pittston, PA | 570.654.6902
Weekend Mass – Now Livestreamed!
Weekend Mass will be Livestreamed during our Sunday morning Mass at 8:00am each week.  This Mass will be available Live via Facebook Live from the below link.  Please note that our Facebook page is a public page, so you will be able to view the Mass without having a Facebook account.  Mass will be made available on YouTube later in the day each Sunday.  Our YouTube page can be found by navigating to youtube.com and searching "St. Joseph Marello Parish Pittston."
Golf Tournament Registration Form - Please save,, print, and the Parish Office by June 1, 2021!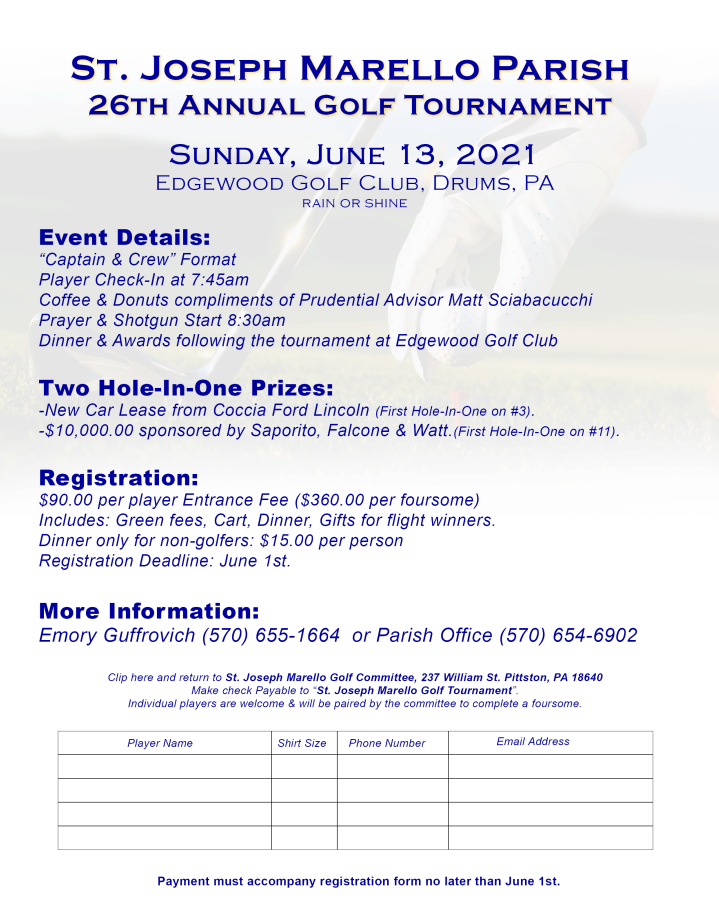 Contact Us
Rev. Joseph Elston, Pastor – pastor@sjmparish.org | 570.654.6902
Rev. Jackson Pinhero, OSJ, Assistant Pastor
Deacon Santo Agolino, Retired Deacon
Christine Silinskie, Parish Secretary – office@sjmparish.org | 570.654.6902, ext. 210
Brandon Jopling, Pastoral Associate, Associate Director of Music, and Publications Director – office@sjmparish.org | 570.654.6902, ext.215
Alicia Hintze, CCD Director – ccd@sjmparish.org | 570.654.6902
Raphael Micca, Music Director – 570.654.6902
For Parish Hall Inquiries, please contact Christine Silinskie at parishcenter@sjmparish.org or 570.239.4070